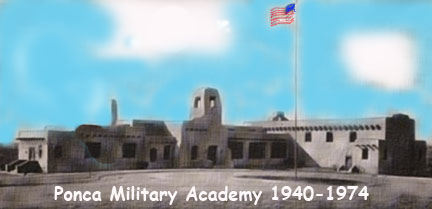 Ponca Military Academy
TO ALL CADETS
The PMA Alumni Association is happy to announce that the 2023 Reunion is scheduled for Sept 30 & Oct 1.
The host hotel is the Osage Casino Hotel. Please stop by the registration table Saturday morning around 8AM to update your information.
Information about reservations at Osage Casino Hotel will be posted as soon as it is available.
Additional hotel information can be found here.
The schedule of events will be posted as soon as it is available.
For anyone arriving Friday evening that is interested, meet at the flagpole at 4PM to visit other cadets and family and then go to dinner.
Check back for updates.
As the years go by we continue to be notified of the loss of a cadet. We hope that all cadets and their families are keeping safe and healthy. we hope to see you at the reunion.
From the flag pole
I am happy to report that the large plaque east of the statue has been completely restored. We have been unhappy that the bricks were breaking loose, that has been fixed. Before the bricks were replaced the sub-base was checked to make sure the foundation was solid and it was sealed before the bricks were replaced and sealed. Even though it lays flat, with the new tech products used it should be in good condition for many years.
TO ALL CADETS
IT IS IMPORTANT TO NOTE BECAUSE OF THE AGE OF THE CORPS 50+ to 80+ OUR NUMBERS HAVE BEGAN TO DIMINISH AT AN INCREASED RATE. THE 2023 REUNION MARKS THE 49th YEAR OF THE CLOSING OF PMA, BECAUSE OF CADET AGE'S THE PASSING OF THE GUARD IS UPON US, AND THE COMPLETION OF THE PARK AND MUSEUM, AND OUR 48th YEAR ANNIVERSARY. IF YOU EVER INTENDED TO ATTEND ANOTHER REUNION DO IT THIS YEAR. WE HAVE A GREAT PROGRAM PLANNED WITH GOOD FOOD (PROVIDED BY THE ALUMNI ASSOCIATION) AND SPECIAL ENTERTAINMENT WILL BE HELD IN THE 5 STAR OSAGE CASINO AND HOTEL CONVENTION CENTER IN PONCA CITY.
MANY OF OUR CADETS HAVE MOVED, CHANGED PHONE NUMBERS AND EMAIL ADDRESS THAT WE HAVE IN OUR DATA BASE AND WE ARE UNABLE TO CONTACT THEM. WE KNOW MANY OF YOU COMMUNICATE WITH CLASS MATES, PLEASE---PLEASE TOUCH BASE WITH ALL OF THEM TO MEET YOU AT THIS YEARS SPECIAL REUNION.
REMEMBER HOTELS, REUNION DATES, PICTURES AND INFORMATION OF PAST REUNIONS AND CURRENT INFORMATION ARE ON THIS WEB SITE. CHECK IT FROM TIME TO TIME FOR UPDATES.
DON'T FORGET TO BE IN PONCA CITY SEPTEMBER 30 AND OCTOBER 1 2023 TO SEE OLD FRIENDS AND REMEMBER WHERE YOU ONCE LIVED. YOUR PMA BOARD WANTS TO THANK EACH OF YOU FOR YOUR LOYAL SUPPORT AND COMMITMENT TO PONCA MILITARY ACADEMY THAT HAS ALLOWED US TO LEAVE A LASTING MEMORIAL TO THE 5000 CADETS WHO PAST THRU PONCA CITY OKLAHOMA FOR 34 YEARS.
FROM THE FLAG POLE
Please email the PMA Musuem or call 580 749-0990.
Please contact us at pma web mail with comments, suggestions on desired content and any thing of interest to you.
The webmasters email was been updated July 28, 2023. The email was down for a few months. The new email will be monitored more frequently.
Listed below are links to additional web pages that relate to PMA, its history, teachers and cadets. Click on the underlined items to view the contents.
PMA Narrative History
Note: Some of the links in the document do not work at this time. The web addresses seem to have changed.
PMA added to the Oklahoma Historical Places
Cadet Dennis Shockley worked with the state of Oklahoma for historical places to have PMA added Shockley did a masterful job of telling the story of PMA. The sign was installed by the city park department under the direction of cadet Hayes. This sign places PMA permanently in Oklahoma history something the cadets can always be proud of.
The American Legion has a good writeup about PMA and the park. Here is the link.
MISSING CADETS: Hundreds of cadets are missing and we would like to make contact them in order that they might share in the history of PMA. Click here for names.
REUNION
It's time to make reservations for the 2023 reunion. The agenda will been posted.
2023 reunion is September 30 and October 1, 2023. Our headquarter hotel will be The Osage Casino Hotel. We will update rates as we get them. Click the link below for the latest information.
To update your contact information for future reunions/events contact us through pma web mail
If you would like to communicate with fellow cadets via email a special site has been set up at Yahoo. Click here to go to Yahoo.
Public Notice of Trust Determination
All alumni that use Facebook: We have seen a number of new users that are not affiliated with PMA Alumni Association that are selling shirts and other items. They are not affiliated with the alumni association. Do not waste your time or money on any of these SPAM accounts.